BGA Main Menu
The Olympic Creed:
The important thing in the Olympic Games, is not to win, but to take part; the important thing in life, is not the triumph, but the struggle. The essential thing is not to have conquered, but to have fought well. To spread these concepts is to build a stronger and more valiant and, above all, more generous humanity.

- Baron Pierre de Coubertin
Bee Elite Gymnastics Academy
"Bee the difference in each persons life. An experience of a lifetime."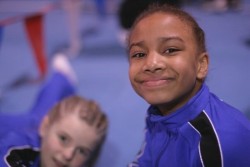 The Bee Elite Gymnastics Academy seeks to BEE the difference in each person's life. Change a life and make a future. Our philosophy is that we want to have an important positive impact on your child's life. We are not only committed to helping each child become the best athlete he/she can be, but also helping him/her to become a happy, healthy and responsible person.

We strive to provide a program that allows them to have fun while learning expression and self-discovery through the physical and mental challenges of Pre-school movement classes, recreational classes and Junior Olympic competitive gymnastics-T&T. We give instruction that is geared toward the individual and challenges them to obtain their potential. Through this instruction we are providing the gymnast with the skills needed to faces life and competition with pride and self-confidence. We strive for a program that differs from others offered in the area.

Besides being less expensive and more flexible, we approach competitions and classes with less pressure. Every gymnast participates and self-improvement and reaching personal goals is the mark of success. With this format every gymnast is a winner and will arrive at the level they are capable of while enjoying each step of the way.


Learn more about us